Why Call It Anything CD
£

10.00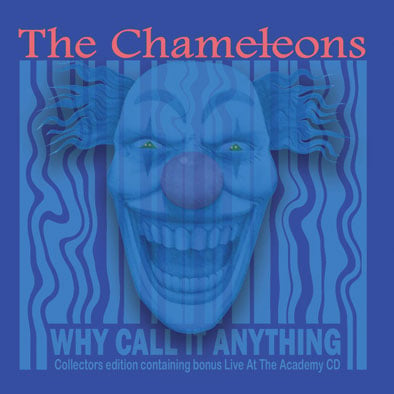 This is a re-issue of The Chameleons fourth studio album, an album that the majority of fans missed out on when originally released in 2001. Produced by David M Allen (Strange Times), it was the band's first full studio recordings in more than fifteen years. Featuring the rich guitars and powerful vocals associated with previous Chameleons albums, WCIA is also enriched by members solo pursuits throughout the 1990's, with some of the songs having an acoustic, almost folky feel. But fans of The Chameleons rockier side won't be disappointed with tracks such as Shades and Indiana still packing an almighty punch.
Disc Two features The Chameleons live in concert at Manchester Academy, a sold out hometown show recorded in 2001, during the band's brief reunion. The cd features live renditions of various WCIA tracks, including Anyone Alive, Shades, and Dangerous Land. Tracks that sound even more impressive, played here after several months of touring. No Chameleons live cd would be complete without the classics, and this is no exception, with Swamp Thing, Second Skin, A Person Isn't Safe and others featuring here. Professionally recorded and mixed, with an unmistakeable hometown atmosphere, this is the definitive Chameleons live album. These tracks were previously available on the now deleted 'Live At The Academy' cd.
Both discs were re-mastered in Spring 2013. The WCIA Collectors Edition is presented in a double jewel case featuring new artwork by Reg Smithies.
DISC 1
Shades / Anyone Alive? / Indiana / Lufthansa / Truth Isn't Truth Anymore / All Around / Dangerous Land / Music In The Womb / Miracles and Wonders / Are You Still There?
DISC 2
A Person Isn't Safe Anywhere These Days / Perfume Garden / Anyone Alive? / Indiana / Caution / Swamp Thing / Lufthansa / Dangerous Land / Up The Down Escalator / Miracles and Wonders / Shades / Monkeyland / Second Skin